Eyelash Extension Training in New York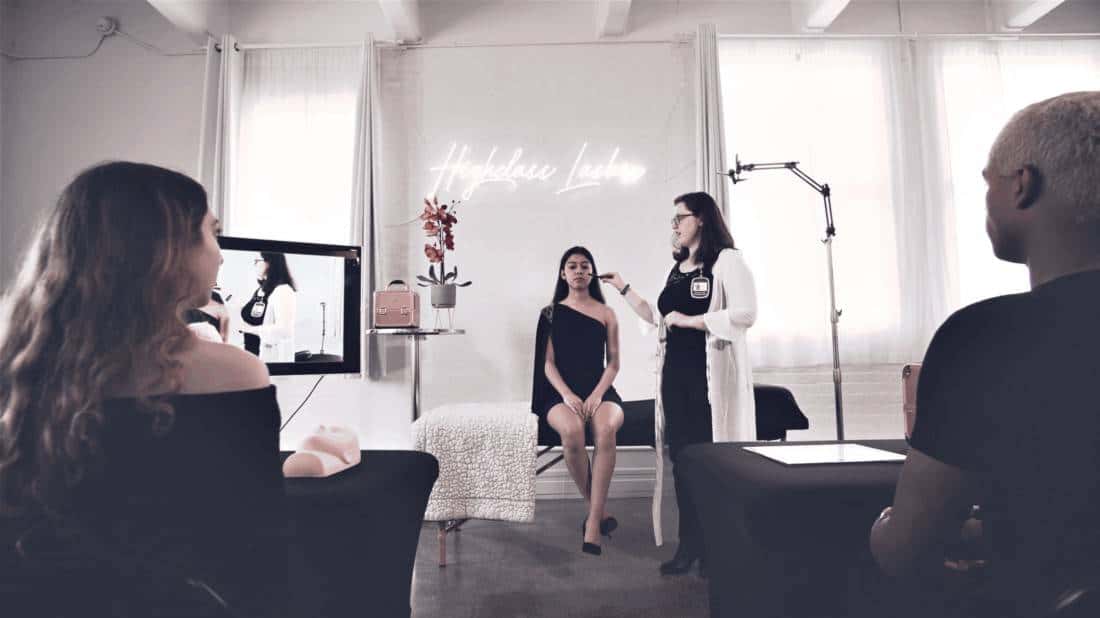 Find Eyelash Extension Trainings Near You in New York
Looking to get trained and certified in eyelash extensions? Highclass Lashes has eyelash extensions certification classes in New York that are perfect for beginners.
Get Certified Online or In-Person:
Get Trained & Certified in eyelash extension in New York with highclass Lashes®
Highclass Lashes is a professional lash extensions training company that offers hands-on lash extension training for beauty professionals and students, makeup artists, cosmetologists and estheticians, as well as for aspiring beauty professionals. You have the option between choosing our 2-day training or 4-day training. The main difference being time, where because you have more time, your educator will be able to touch basis on volume and hybrid technique and you will also be able to practice on 2 more live models. By the end of our lash extension training and certification program, you will be well equipped to set out on your own and establish a lash extension business. You will learn how to apply lash extensions and everything from client consultations to removals and you will also be taught the best practices, tips and tricks to create beautiful lashes.
Why Highclass Lashes® has The Best Eyelash Extension Trainings in New York
Whether you enroll for the 2-day or 4-day program, you will be taught about lash extension in a way that you will have a deep understanding of it. Apart from receiving tutoring and being taken through each step of the lash extension application process by your educator, you will also have the opportunity to practice what you have learnt on both a mannequin (which will provided to you solely for this purpose) and live models. You will be guided through the entire process; starting from getting the client's natural lashes ready, advising the client on which lashes would be the best for their face, to applying these lash extensions to give them the beautiful and glamorous look they want.
There are two different programs for you to choose from, and they are:
The 2-day training program which costs $849. Here, you will learn the basics and fundamental techniques to applying and removing lash extensions.
The 4-day training program where you will have the additional opportunity to also be able to touch basis on volume and hybrid technique and work on 2 more live models because you have more time.
How do I sign up for eyelash extension classes in New York?
You can sign up for a lash class by heading on over to our Beginner's Classic Lash page or clicking the Enroll button below. And if you scroll down to the bottom of that page, you will find the enrollment form where you can reserve your seat for class. Once you become a student, you will receive a confirmation email with class details, address, parking, etc.
Get Professionally Trained with highclass lashes® and become a Certified lash artist
The eyelash extension industry has experienced rapid growth in recent times, and continues to experience even more growth. And if there ever was a period, more than ever before, to become an eyelash technician, it is now. With more and more women showing an inclination to get lash extensions, the skill has become even more lucrative than ever before, as well as a sure and stable source of income for those who have it. In the event that you have been thinking of switching careers, becoming an eyelash technician is certainly something you should consider. There are several reasons for this; According to a recent lash industry survey, 80% of eyelash technicians report that they are very satisfied in their line of work.
It is flexible, and you get to choose your own working hours. If you are more comfortable with working in the mornings, all you have to do is set appointments with your clients for that period, and if it is something else you are comfortable with, you get to make the decision about it.
It is lucrative, and has even the potential for more growth. You can charge as high as $180 for a set of full lashes. In fact, 12% of eyelash technicians do this. In fact, this aspect of the eyelash extension industry (the products section) is forecasted to be worth $1.5 billion by the year 2023.
It is relaxing and rewarding. Many eyelash technicians report in glowing terms the feeling they have when they apply a lash extension for a client. Imagine helping a woman look more beautiful, and thereby helping her feel more confident and powerful; that is the powerful you get as an eyelash technician.
If you want to work in an industry where: you can afford to be flexible; you have opportunity for growth; you are assured of profitability, etc., then the eyelash extension industry is for you. Enroll with Highclass Lashes today to get trained by the best in this field and start on your path to success.